To celebrate Halloween this year, the Bank House Hotel will be serving some spooky specials throughout the hotel.
How does a Pumpkin Soup sound? What about a Pumpkin Gnocchi? Or maybe a Pumpkin and Maple Cheesecake takes your fancy? You can try all or any of these for yourself during Halloween week from Monday 28 October.
The full 'Spooky Specials' menu is below:
Starter
Spiced Pumpkin Soup garnished with coconut milk, coriander and toasted seeds (Vegan) £6.25
Main Course
Rack of lamb with Pumpkin Gnocchi, rosemary jus, baby carrot and kale £21.95
Dessert
Pumpkin and Maple Cheesecake with Pumpkin seed brittle £6.50
To book yourself a table in our Pear Tree Brasserie, simply call us on 01886 833551.
The team at the hotel will also be having a pumpkin carving competition so keep your eyes on our social media channels to see which department is the most creative.
But have you ever wondered why we have pumpkins for Halloween?
Carving pumpkins is a long old tradition in the UK and the popularity of Halloween increases every year. But the history of both Halloween and pumpkins for Halloween is not as obvious as you might think…
The word Halloween actually comes from a Scottish term, 'All Hallows' Evening', which means the evening before All Hallows' Day – more commonly known as All Saints' Day.
All Saints' Day is a Christian festival celebrated in honour of all the saints, referred to in this form as hallows: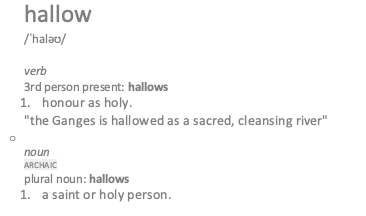 So 'All Hallows' Evening', which has also been known as just 'Hallows' Evening', 'Hallows' Eve' and more recently, 'Halloween', is the celebration on the evening before and dedicated to remembering the dead. This includes saints (hallows), martyrs, and all the faithful departed.
Like with many historical traditions, the origins are never 100% certain. However, it is known that many of the Halloween traditions were formed from Gaelic festivals and this explains the huge popularity of Halloween in northern America following mass Irish and Scottish immigration in the 19th century.
The carving of pumpkins, or 'Jack-o'-lanterns' also came from Irish tradition.
It is believed the name came from an Irish legend called Stingy Jack, or Drunk Jack. Jack bargained with the devil in life and that left him wandering the world for eternity when he died. He was denied access to heaven and was unable to enter hell due to his prior agreement with the devil. Jack was believed to have been carrying an ember inside a hollowed turnip to light his way.
Tradition turned from a variety of fruit to people hallowing and carving out pumpkins, which historically were placed outside homes and on windowsills to ward off the evil spirits.
As a slightly alternative theory, it has also been suggested that the jack-o'-lanterns originally represented Christian souls in purgatory.
Either way, it's a great tradition and pumpkins have simply become synonymous with Halloween across the world.