We've all been there… a sweltering summer night, throwing the covers off and struggling to sleep. So how can you sleep well on a hot summer night?
At the Bank House Hotel, we know a thing or two about getting a good night's sleep and there are some great ways to keep cool on these warm summer nights. Check out some of our helpful hints and tips below:
Choose Cotton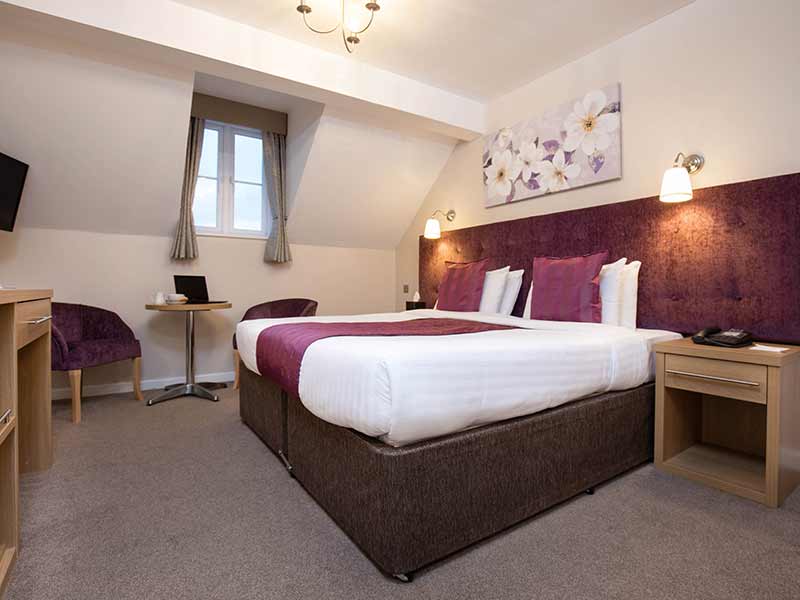 The main secret to keeping cool is to choose lightweight cottons. Cotton bed linens are breathable which help the ventilation of air to your body on those stuffy nights.
Lightly coloured bed linen made of lightweight cotton (Egyptian preferably) will make so much different – as you'll experience at the Bank House with our luxury lightweight cotton bedlinen in all guest rooms.
Get Loose
Sleeping nude has long been debated as to whether it keeps you cool or not. Some believe it keeps them cool, while others claim that sweat sticks to the body more than clothing and therefore retains heat.
Either way, we recommend loose PJs or bed-wear, but personal preference wins here.
Hot Cold Water Bottle
We all grew up with a hot water bottle, right? Well, did you know they're dual-purpose? Hot water bottles are equally competent being used as cold water bottles…
If you half fill one with water and pop it in freeze a few hours before bed, it'll have frozen solid and will be perfect for cooling your bed periodically throughout the night. We wouldn't recommend using it directly on your skin though – wrapped in a light towel will probably work best.
You can also chill your pillow cases before bed and believe it or not, putting your socks in the freezer also works. Cooling your feet is proven to lower the overall temperature of the body. However, we're not sure we like the idea of even clean socks anywhere near the freezer!
The Blind-ingly Obvious…
Keep the sun out of your room during the day by closing the blinds or curtains. If you've got blackout blinds, then definitely keep them closed during the day.
Think of the Greenhouse Effect and how the glass of a greenhouse traps the warm temperatures inside during the day and then keeps it in during the nights. Well, you're trying to achieve the opposite so keep the sun out.
Airflow
Airflow is key to lowering room temperature. Your body generates heat and if the doors and windows are closed, the room is only going to get hotter.
A great little trick here is to position a fan across from an open window. The breeze from outside and the fan combine to create a cool cross breeze.
However, if you're in an air-conditioned room, then keep those windows closed as you'll just be losing all that nice, cool, conditioned air.
One is the loneliest coolest number
Sorry love birds, but the last thing you need on a warm night is someone to share a bed with.
We've already mentioned how a human body generates heat – well, times that by two.
Cuddling your partner to sleep will just make you both sweaty and uncomfortable, whereas the famous spread-eagle position (i.e. with arms and legs not touching each other) will definitely keep you cooler.
Switch Off
If only sleeping well was as easy as just 'switching off'… well, it does help. We're talking about your electronic devices…
Light bulbs and electronic appliances generate heat – even that little red dot on the TV generates a small amount of warmth. Turn everything off and unplug devices at the wall and you'll also save on your electricity bill too. Every little bit helps.
Cool Off
It takes a completely different meaning during a heatwave, but it's proven… a cold shower before bed will lower your body temperature and remove sweat – both will help you get to sleep.
At the Bank House, our showers are perfect for cooling off before bed – just let us know if you need some extra towels for the morning.
Hydrate
We've found that drinking a nice cool glass of water before bed is perfect for not only cooling you slightly, but keeping you hydrated through the night.
On these warm evenings, we're guaranteed to sweat so keep your fluids topped up beforehand. Our suggestion is about 250ml of water though, otherwise you might be waking up in the middle of the night for another reason as you dash to the toilet.
When staying at the Bank House, please feel free to use our 24-hour room service facilities should you need to order some extra bottles of water.
So there you have it, just a few tips for keeping cool and getting a better night's sleep on a warm summer night. Good luck and sleep well.