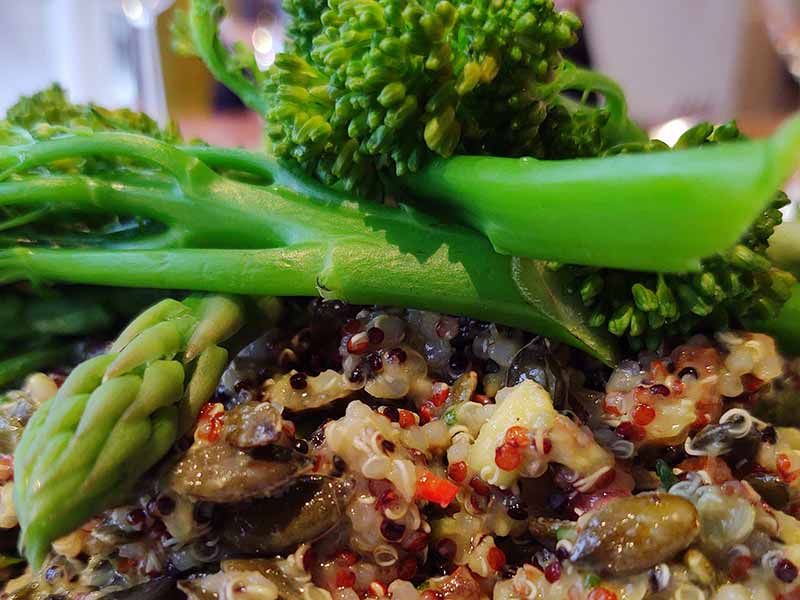 Our very own Vegan and Gluten-Free Superfood Salad has recently made the list of 'Best Dishes in Worcester' by local restaurant blogger, Faithful City Food.
And while you can't currently experience this super healthy and super tasty dish at the Bank House (due to us being closed through this latest lockdown), you can now try it at home.
Head Chef, Phil Waring, has very kindly given us the recipe of exactly how you can make the Bank House Superfood Salad yourself. Here's how he does it…
View Shopping List
View Preparation
View Method
(Or you can skip to a visual version of the recipe)
Shopping List
Quinoa
Comes in different varieties such as white, black, red, or all three together which is what we use, any is fine. Alternatively, you could use pearl barley, couscous, bulgur wheat or even rice.
Bag of baby spinach
Alternatively, you could use mixed salad leaves, kale or rocket.
Soya beans
Alternatively, you could use shelled broad beans or even garden peas
Pomegranate
Pumpkin seeds
Bag of Tenderstem broccoli
Bunch of green asparagus
Olive oil
Lemon juice
Icing sugar
Avocado relish
4 ripe avocadoes, 1 red onion, 1 red chilli, 1 red pepper, 1 tomato, fresh coriander
Preparation
Avocado relish
Skin and destone the avocadoes and mash up in a bowl. Finely dice the red onion, chilli and pepper and mix into the avocado mash.
Deseed and finely dice the tomato and mix in also. Chop the fresh coriander and mix in and then finally season to taste with salt and pepper and a good squeeze of lemon juice. Put to one side until needed.
Tip: Any leftover relish can be used spread on toast topped with poached eggs as a delicious breakfast/brunch or as a guacamole dip.
Quinoa
Following the packet instructions.
Spinach
Wash and spin the spinach leaves
Soya beans
Cook the soya beans and drain
Pomegranate
Deseed the pomegranate by cutting in half and bashing with a wooden spoon while holding over a bowl.
Pumpkin seeds
Toast the pumpkin seeds by baking for a few minutes in the oven.
Lemon sherbet dressing
Sieve 100g of Icing sugar and then whisk in 70ml of olive oil and 30ml of lemon juice until fully incorporated.
Broccoli
Cook the broccoli and asparagus by bringing a pan of salted water to the boil and adding them to the water for 5/6 minutes.
Method
In a large bowl grab a big handful of the spinach leaves and add the quinoa and a large spoonful of the avocado relish and mix.
Next mix in the pomegranate seeds, the toasted pumpkin seeds and soya beans. Dress generously with the lemon sherbet dressing.
Serve in a bowl topped with the cooked broccoli and asparagus.
And there you have it, your very own delicious Vegan and Gluten Free Salad. Or as we call it, the Bank House Superfood Salad. You can download a handy print-out of the recipe by clicking the image below.
Let us know how you get on when you've tried it yourself.