FOOD SERVED:
Monday – Sunday: 12noon – 9pm
Sunday Lunch: from 12pm
SPORTSMAN'S BAR
FOOD SERVED:
Monday – Sunday: 12noon – 9pm
Sunday Lunch: from 12pm
A Relaxed place to eat & Drink in Worcester
As a family-run hotel, we pride ourselves on our warm and friendly atmosphere and nowhere is it felt more than in the Sportsman's Bar, out on the Terrace or in the Garden.
Enjoy Light Bites, Sandwiches and Sharing Boards, as well as more hearty pub classics such as Fish and Chips and our trademark Bank House Burger. Children are welcome and we have a specially designed menu for our younger guests.
The Sportsman's Bar is also the perfect place to meet friends, family or colleagues for a drink. We have an extensive wine menu alongside our beers, ciders, cocktails and artisan gin selection.
Food is served
Monday – Sunday: 12pm – 9pm
Non-residents welcome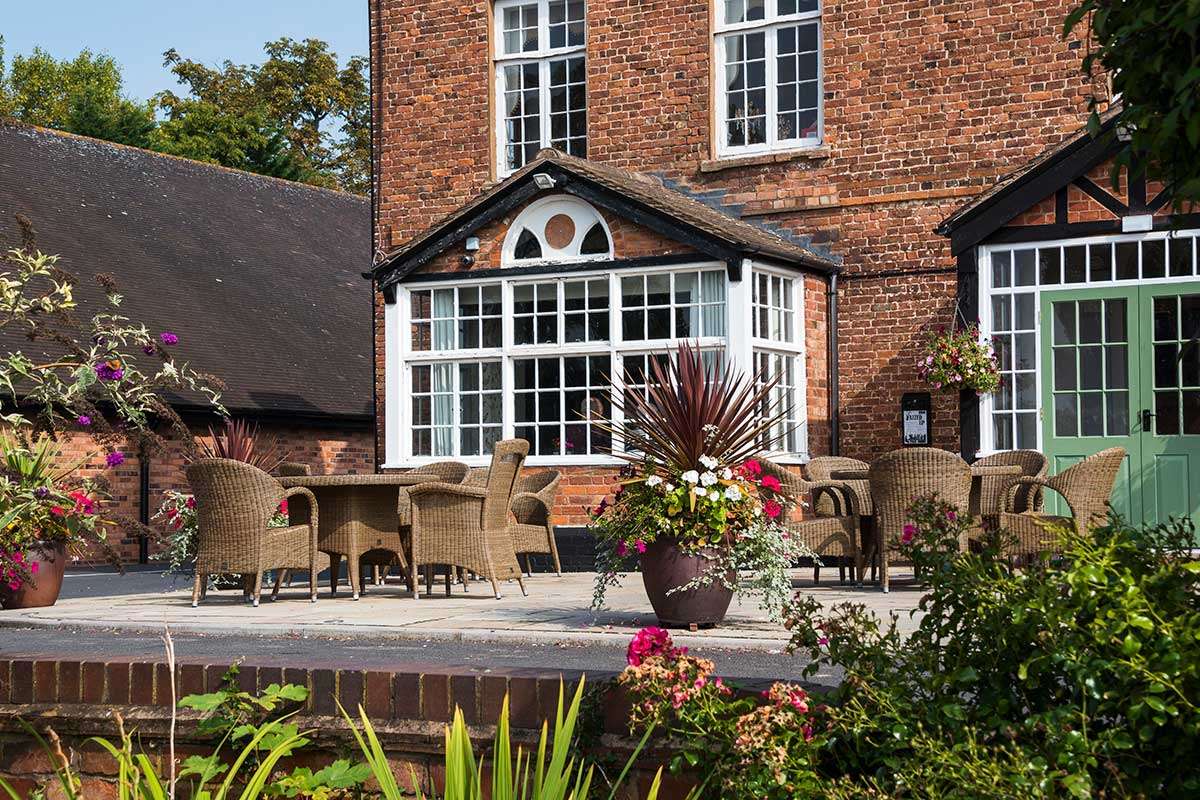 The Sportsman's Bar at the Bank House Hotel features a spacious terrace and large beer garden with stunning views of the Worcestershire countryside and Malvern Hills beyond.
On a sunny day there is nowhere better to relax and enjoy a refreshing drink or alfresco bite to eat with friends and family.
Well behaved dogs are welcome on the terrace and in the beer garden so your four-legged friends need not be left behind!
The Sportsman's Terrace is also home to our popular Bank Holiday barbeques and Jazz Sundays, keep an eye on our News page for our upcoming events.
Watch the Rugby World Cup
'Scrum' on down to The Sportsman's Bar at the Bank House Hotel to watch the eagerly-anticipated 2023 Rugby World Cup.
We'll be showing every single game of the Rugby World Cup in our cosy Sportsman's Bar serving our usual selection of great drinks as well as delicious food from our all-day menu, including pub classics such as our Bank House burgers, home-made pizza and beer battered fish and chips.
The Sportsman's Bar will have offers available one hour either side of kick-off, on both food and drink. Drink offers include pints of draft Guiness, San Miguel and Thatcher's all available for £3.95 and our 'Gin of the Week' which will be £5 for a single and £7 for a double, including a Schweppes tonic.
The action starts on Friday 8 September as hosts France take on New Zealand at 8.15pm. England's first game is against Argentina on Saturday 9 September at 8pm, while Sunday 10 September sees Scotland vs South Africa (4.45pm) and Wales vs Fiji (8pm).